Julie Otsuka (b. 1962)
Julie Otsuka was born in Palo Alto, California, in 1962 to parents of Japanese descent. Her father, an Issei or Japanese immigrant, was an aerospace engineer. Her mother, a Nisei or second-generation Japanese American, was a laboratory technician before Julie's birth.
Otsuka excelled in school, and eventually moved east for college. In 1984 she earned her Bachelor of Arts degree at Yale University. Through her early 20s she studied to be a painter, but decided instead, after suffering a self-described "creative breakdown," to turn her attention to another art form: writing.
In New York City the seeds of a highly successful career were planted when she enrolled in a writing workshop. Otsuka earned her MFA in writing from Columbia University in 1999. Part of her MFA thesis became the first two chapters of her novel When the Emperor Was Divine, published in 2002.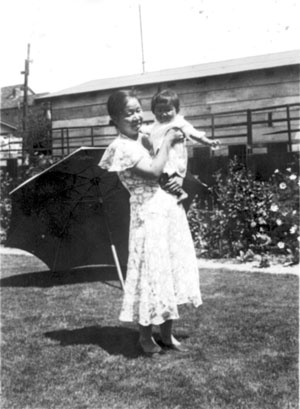 Julie Otsuka's mother and grandmother (Courtesy of the Otsuka family)
Otsuka's family history figures prominently in the novel. A day after the bombing of Pearl Harbor, her grandfather was arrested by the FBI on suspicion of being a Japanese spy. Her mother, grandmother, and uncle were subsequently interned at a camp in Topaz, Utah. Otsuka drew on both research and personal experience to craft this debut novel, which won the American Library Association's Alex Award and the Asian American Literary Award in 2003. Emperor has been assigned to first-year students at more than 45 colleges and universities.
Published in 2011, Otsuka's second novel—The Buddha in the Attic—is based on Japanese "picture brides" who were brought to America to marry men they had never met. In 2012 it won the PEN/Faulkner Award for fiction and was a finalist for the 2011 National Book Award, among other notable recognitions.
The literary journal Granta published three of her short stories, "Come, Japanese," "The Children," and "Diem Perdidi," the first two of which were excerpts from her novel The Buddha in the Attic. Her short story, "Whites," which is another excerpt from The Buddha in the Attic, was published by Harper's. Her work has also appeared in The Best American Short Stories 2012 and The Best American Non-required Reading 2012.
Otsuka says she writes every day at her local café.
From: "About the Author: Julie Otsuka" NEA Big Read, Jul. 2017, www.arts.gov/national-initiatives/nea-big-read/when-the-emperor-was-divine#about-author
Photo by Robert Bessoir | Image from: http://www.julieotsuka.com/about/